VIRTUAL BOOK LAUNCH:
THE TRANSFORMERS
Simplification Strategies for the
Digital Enterprise
By Andreas Graesser
VIRTUAL BOOK LAUNCH:
THE TRANSFORMERS
Simplification Strategies for the
Digital Enterprise
By Andreas Graesser

VIRTUAL BOOK LAUNCH:
THE TRANSFORMERS
Simplification Strategies for the
Digital Enterprise
By Andreas Graesser

We invite you to an exiting Virtual Book Launch Event with Andreas Graesser, Author of the book
THE TRANSFORMERS – Simplification Strategies for the Digital Enterprise.
August 12th, 2020 at 11am EST / 17:00 CEST
Interviewed by Liam Ryan, Managing Director of SAP Labs Ireland, Andreas Graesser will talk about
Digital Transformation Strategies within the Era of Big data. You bet you will learn many new things, about technologies,
about the power of data transformation, about leadership, and, of course, about Andreas and Liam.
The Transformers – The Book
The Transformers takes you on a journey through the digital world in times when economic conditions force companies to manage their bottom-line rigorously. Despite these conditions, digitization is in full swing. Simplified digital strategies create competitive advantages for companies' futures, shielding them from potential threats. Published right in time, the book The Transformers shows how companies can immediately save cost with data transformation at the push of a button, and, at the same time, accelerate their digitization journeys. It will empower them to drive end-to-end information management of the digital core successfully.
The book aims at business leaders, the entire C-suite management, and anybody interested in digital business transformation. Additionally, all responsible decision-makers who lead digital transformation projects or are in the middle of its preparations will benefit from The Transformers. While Graesser explains the value of a data management platform in general terms, transformational leaders, especially within the SAP world, will pull great benefit from the many examples of digital business transformation provided.
"The Transformers describes not only SAP HANA's compelling predictive analytics capabilities but also explains the required data transformation for the digitized enterprise explicitly. The simplification of companies' data architectures will unleash innovative power never seen before. This book is a must-read for all business leaders tasked with transformational programs."
Gerhard Oswald, Member of the Supervisory Board, SAP SE
"The expansion of data and time horizons is the foundational bedrock for data transformers. New intelligent platforms extend data-horizons into history to learn patterns that can predict the future. The Transformers story fascinates me and hits the right mark."
Shai Agassi, Founder, Better Place and former President SAP Technology Group, SAP SE
"Big Data, Artificial Intelligence, and Machine Learning will affect every single human being and will be on top of every C-Suite Executive's agenda. This book outlines in a structured way what businesses need to do to stay relevant. Historical, operational, and experience data is the new oil and the foundation to keep every business strong and thriving."
Sam Nakane, Former Chairman of the Board of Tokyo Science University and Chairman and Founder of UWiN Corporation, Tokyo
Andreas Graesser
The Author
The Author
The Transformers - Simplification Strategies for Digital Enterprises is Andreas Graesser's second book he wrote for the business management community. His primary intent was to encourage the business communities thinking about the data as the new oil of the 21st century. Already in 2019, he published his first book, "Run IT – Dominating Information Technology," laying out the details of the Five Pitfalls of Software Implementation.
Graesser founded his start-up company innovad LLC in 2017. He specializes in Digital Business Transformation services across many industries. Working with his clients to invent and implement usage scenarios for Artificial Intelligence and Machine Learning, Graesser empowers the business leaders to create and manifest their digital visions that are needed to succeed on their business transformation journeys. 
Before his entrepreneurial endeavor, Graesser served as Senior Executive for more than 21 years at SAP America, where he managed hundreds of highly complex transformational customer programs in North America, Latin America, Europe, and Asia.
Born in Karlsruhe in Germany, Andreas lives for more than 20 years in Wayne, PA (United States), together with his wife, Gudrun.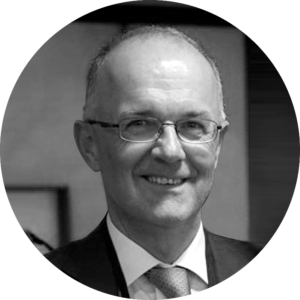 The Moderator
Liam Ryan is Managing Director of SAP Labs in Ireland. He joined SAP in 1999 and has overseen the growth of SAP's operations in Ireland totaling over 2,300 Employees in 29 Lines-of-Business in Dublin and Galway. SAP Labs Ireland is focused on the delivery of remote Services and Support, Commercial Sales and Business Intelligence R&D. The BI research is concentrated on Smart Insights on the SAP Analytics Cloud.
Liam holds a bachelor's degree in Electronic Engineering from DIT Kevin Street and Trinity College Dublin. Living in Dublin with his family he is a keen golfer.